Warhammer 40k Horus Heresy Book 51: Slaves to Darkness - John French
Category:
Sci-Fi
Language:
English
Keywords:&nbsp &nbsp &nbsp &nbsp &nbsp
Shared by:maruviel123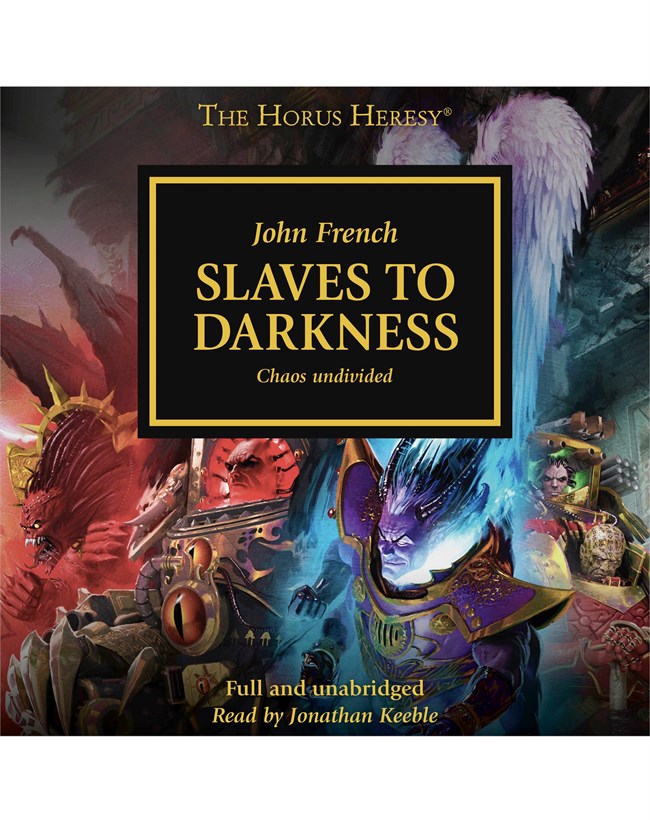 Written by John French
Read by Jonathan Keeble
Format: MP3
Bitrate: 192 Kbps
Book 51: Slaves To Darkness
A Horus Heresy novel
As the traitor fleet closes on Terra, turmoil grips its heart. Horus lies wounded, and as the greatest battle of all time looms, it falls to Maloghurst the Twisted to hold the force together and save the Warmaster.
THE STORY
After a long and gruelling conflict, the traitors at last close upon Terra. But time is dwindling for an attack. Both Guilliman and the Lion are returning with all haste, and their armies could turn the tide. The hosts of the Warmaster must unite, for only then can they attack the Throneworld itself. While Mortarion is sent on ahead as the fleet's vanguard, it falls to Lorgar and Perturabo to marshal Fulgrim and Angron, both now elevated to daemonhood and perhaps beyond even the will of the Warmaster to command. But Horus lies wounded and as the greatest battle the galaxy has ever know looms, it is up to Maloghurst to hold his fractious Legion together and to wrench Horus himself from the edge of oblivion.
Announce URL:
This Torrent also has several backup trackers
Tracker:
udp://tracker.open-internet.nl:6969/announce
Tracker:
udp://tracker.opentrackr.org:1337/announce
Tracker:
udp://tracker.tiny-vps.com:6969/announce
Tracker:
udp://tracker.vanitycore.co:6969/announce
Tracker:
udp://tracker.torrent.eu.org:451/announce
Tracker:
http://tracker.internetwarriors.net:1337/announce
Tracker:
http://tracker.vanitycore.co:6969/announce
Tracker:
http://retracker.telecom.by/announce
Tracker:
udp://tracker.leechers-paradise.org:6969
Tracker:
udp://tracker.coppersurfer.tk:6969
Tracker:
http://retracker.telecom.by:80/announce
Creation Date:
Sun, 07 Oct 2018 18:56:16 -0400
This is a Multifile Torrent
016_Chapter_15.mp3 60.98 MBs
002_Chapter_1.mp3 51.06 MBs
003_Chapter_2.mp3 46.6 MBs
004_Chapter_3.mp3 37.82 MBs
005_Chapter_4.mp3 42.84 MBs
006_Chapter_5.mp3 57.51 MBs
007_Chapter_6.mp3 42.64 MBs
008_Chapter_7.mp3 40.04 MBs
009_Chapter_8.mp3 36.98 MBs
010_Chapter_9.mp3 41.38 MBs
011_Chapter_10.mp3 59.36 MBs
012_Chapter_11.mp3 53.01 MBs
013_Chapter_12.mp3 44.13 MBs
014_Chapter_13.mp3 47.62 MBs
015_Chapter_14.mp3 52.39 MBs
001_Prologue.mp3 19.96 MBs
017_Chapter_16.mp3 33.75 MBs
018_Chapter_17.mp3 39.61 MBs
019_Chapter_18.mp3 48.63 MBs
020_Chapter_19.mp3 40.6 MBs
021_Epilogue.mp3 5.55 MBs
Combined File Size:

902.45

MBs
Piece Size:

512

KBs
Comment:
Warhammer 40k Horus Heresy Book 51: Slaves to Darkness
Updated by AudioBook Bay
Info Hash:
4dfe690e972262f60df2569bf6ba002f69e4c9de
Torrent Download:
Torrent Free Downloads
Tips:
Sometimes the torrent health info isn't accurate, so you can download the file and check it out or try the following downloads.
Direct Download:
Download Files Now
Tips:
You could try out alternative bittorrent clients.
Secured Download:
Start Anonymous Download